29.11.2007
MidWeekBrakes Crewet udgiver mixtape!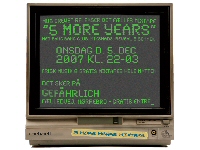 I sommers blev der sat ild i Rust i bogstavelig forstand. Dette betød, at hele Danmarks yndlings onsdags hiphop klub, MidWeekBrakes, kom til at leve en nomade tilværelse og blev afholdt på forskellige spillesteder. Her, ca. et halvt år efter, er MWB fyldt 5 år, og fejrer dette ved at udgive et mixtapet '5 More Years', der helt sikkert vil sætte ild til dit stereo-ere-o.
"MWB crewet releaser et fælles mixtape fra de 4 DJs BangBangClub, MiksMads, Reveal & Schack.
Der vil være fresh musik og gratis mixtapes hele natten. Mixtapet er delt ind i 4 dele. 1 for hver DJ.
Musikalsk set kommer vi ud på lidt af en rejse på 5 MORE YEARS MIXTAPE idet BangBang starter med en serie hjemmelavede blends, MiksMads kører ind i "digitalt" hiphop land, Reveal leverer den store eklektiske rejse og afsluttende fra Schack et totalt "jacking" house tempo sæt med rap fra old school legender som Kool Keith, Roxannne Shanté & Public Enemy."
Det går ned på GEFÄHRLICH, onsdag den 5. december 2007 klokken 22-03.
Tracklisten ser således ud:
Bang Bang Club – The Real Taste Of Hip Hop Blends:
Saul Williams – Twice the first time intro
Brother Ali – Uncle Sam Goddam instrumental
Deuce Eclipse – Like The Wind" acapella
Jedi Mind Tricks – Animal Rap instrumental
One Self – Blue bird acapella
A-Trak – Step off instrumental
Ty feat. Maceo – Closer acapella
One Self – Fear the labour instrumental
Brother Ali – Truth Is instrumental
Jøden – Hamrer Løs acapella
Promoe feat. Capleton – Songs Of Joy acapella
Kanye West – Stronger instrumental
Jurassic 5 – Turn It Up acapella
Ugress – Spiderman Theme instrumental
Beastie Boys – Triple Trouble acapella
C-mon & Kypski – Welcome To Vegas outro
Miksmads – Digital Consequence:
MiksMads – Drappyhive (intro)
Perceptionists – Party Hard (Cavemen RMX) instrumental
JuJu & Bloody Moon – Punch You In The Face acapella
M.I.A – Galang (Cavemen RMX)
ColdCut – True Skool (Spank Rock RMX)
Kid Kishore – Balle Balle
The Tape vs. RQM – Move To The Rhythm
Peaches – Tent In Your Pants
Spank Rock – Touch Me instrumental
Organism – Så Här Ska Det Låta instrumental
ColdCut – Everything Is Under Control acapella
ColdCut – Everything Is Under Control (Return Of The Underdog RMX)
Simian Mobile Disco – It's The Beat (Siriusmo RMX)
Modeselektor – Silikon (Siriusmo RMX)
Mr. Oizo, Teller & Sebastian – Skatesteak
Dj Reveal – Disco The World Around:
Ben Westbeech – So Good Today (Acoustic Version)
Djazz – British Rock (J.A.C.K. Re-edit)
Common – So Cool   
Herbie Hancock – Saturday Night (Beatconductor Rework)
Boom Clap Bachelors – Kapital Logik
Nephews Of Phela – Uhuru Mash Up
Oscar Sulley – Bukom Mashie
Nephews Of Phela – Uhuru Mash Up
Yosaku – Future Paradise
Middlewood Sessions – Fall Back (Spiritual South RMX)
R.D. Burman – Aa Dekhen Jara (Bonus Beats)
Shantel – Fige Ki Ase Me
Dj Schack – New Style Hip Hop Workout Mix:
Makossa & Megablast feat. Kool Keith – Get It On
Basement Jaxx feat. Roxanne Shanté – Make Me Sweat
Pharaohe Monch – Body Baby (Sinden & Monte Cristal RMX)
Daft Punk – Around The World
Public Enemy – Bring The Noise (Ferry Corsten RMX)
Alter Ego & Ghost Writers feat. Lil Keke – Ghost Musick
Damian Marley – All Night instrumental
Damian & M.I.A – All Night Boyz (SchackAttackMashUp)
Playing time: 69:53
Tjek flyeren i fuld størrelse.
Skrevet af Johnny Lund 29.11.2007 arkiveret under Nyhedsarkiv |